UO > About > Organizational Structure > Rectorate
Renáta Tomášková
Vice-Rector for International Affairs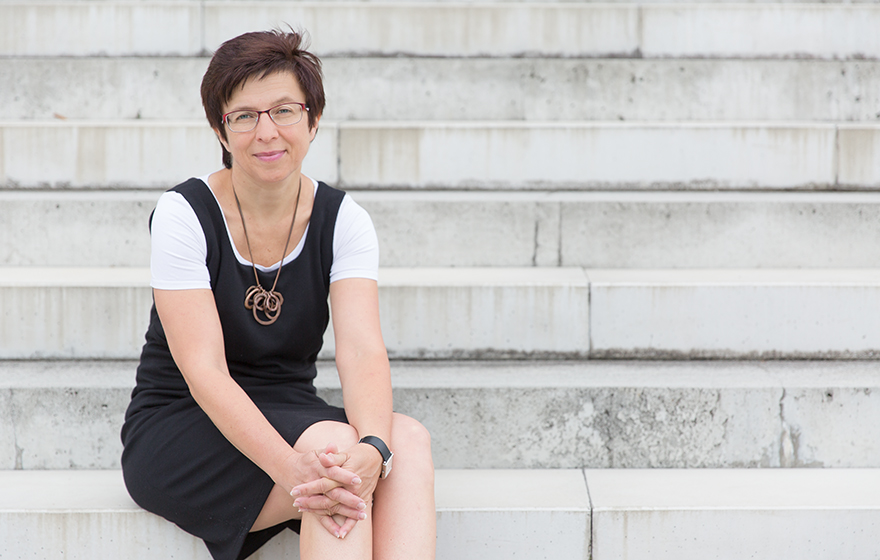 Academic degree, name, surname:
Mgr. Renáta Tomášková, Dr.
Position:
Vice-Rector for International Relations
Deputy Director
Research interests and teaching:
text linguistics, translation studies, stylistics
Phone number, mobile:
+420 553 46 1900
+420 553 46 1049
Education
1992 – 1997
doctoral degree (Dr.), English Language, Palacky University Olomouc.
1986 – 1991
Master's degree, English Language and Literature and Czech Language and Literature, a double major teacher-training programme
Working Practice
Since 1992
Assisstant Professor, Department of English Language and Literature, Faculty of Arts, UO
1991 – 1992
secondary school teacher (English and Czech), Gymnázium E. Thälmanna 669, Ostrava (today Wichterle's Gymnazium)
Lecturing in
Text linguistics, genre analysis (web genres) and discourse analysis
Stylistics of contemporary English
Academical membership
Since 1. 11. 2016
Vice-Rector for International Relations
11/2015 – 10/2016
Vice-President of the Academic Senate of the Faculty of Arts, UO
2010 – 2014
Head of the Dpt. Of English and American Studies, UO
2003 – 2005
Secretary, Dpt. Of English and American Studies, UO
1997 – 1999
Secretary, Dpt. Of English and American Studies, UO
Membership
Ostrava Journal of English Philology, University of Ostrava, Associate Editor
Brno Studies in English, Masaryk University, Brno, Reviewer
Discourse and Interaction, Masaryk University, Brno, Reviewer
Časopis pro moderní filologii/Journal of Modern Philology, Charles University, Prague, Reviewer
Topics in Linguistics, published by De Gruyter Open, Constantine the Philosopher University, Nitra, Reviewer
No record found. Database Maintenance.
Bizoň Daniel
On Communicative Behaviour of Protagonist Character in Computer Role-Playing Games.
Rusňáková Veronika
Multimodality in the Limelight: Multimodal Analysis of Ballet Companies
Blažková Barbora
"Tell me what you read, and I will tell you who you are" (A Critical Discourse Analysis of British Web-news Headlines)
Bielewicz-Kunc Joanna Daria
Compliments and compliment responses in Czech, Polish, and English. Pragmalinguistic and sociopragmatic perspective.
Kolouchová Marta
Translating of European Union Texts
Konečná Eliška
Fan Fiction: genre varieties and author's style
Kotzurová Tereza
The Translation of Travel Guides
Menšíková Hana
Mediating Scottish Gaelic Elements in Czech Literary Translation
Nešpor Filip
The Same or Different Murakami? A Comparison of English and Czech Translations
Wenzlová Sára
"At War With Coronavirus": analysing cognitive metaphor in British media
Meniarová Dominika
A comparative analysis of selected Czech theatre translations of Cat on a Hot Tin Roof and The Importance of Being Earnest in contrast to English originals
Prášková Lucie
Text and image in translation: exploring professional and fan translations of comics
Sýkorová Hana
Translation of Humor in Neil Gaiman's Work
Tetamenti Fabiána
Prospective Translators In The Making: Competencies Reflected In Their Texts And Implications For Translation Training
Válek Martin
Gaming fora and reddit culture: analysing posts on selected digital games
Ďuriš Vít
Communicating Science through YouTube
Břenková Tereza
Emily Brontë´s Wuthering Heights in Three Czech Translations
Buráňová Silvie
TED Talks: Communicating Science to Broad Audiences
Matula Marek
Trump and others tweeting: on the genre and personal communication
Recman Tomáš
Rick and Morty in Czech Subtitles: Translation and Commentary
Gromnicová Sylva
Science for All: Exploring Popular Scientific Websites. A Multimodal Discourse Analysis
Horáková Romana
Překlad jako obraz jazykové a interkulturní kompetence
Petráš Jiří
Evropská letiště na webu: analýza webových stránek podniků
Plohák Martin
Význam jmen a jejich překlad v dílech fantasy a sci-fi
Šestáková Jana
Linguistic landscape in the Czech Republic
Kolář Martin
Differences in Web Presentations of the Czech and the British political parties
Masopustová Pavlína
Mediating Ostrava region and Ostrava University to international audiences
Czarnota Ewa
Science for All: Exploring Popular Scientific Websites. A Multimodal Discourse Analysis.
Havrlantová Tereza
We Are Unilever: Researching Corporate Communication Strategies Online
Hudáková Lucia
Find us on Facebook! An Attempt of a Discourse Analysis of Placement in Portugal
Maleňáková Monika
Lost in Translation: Translating for Subtitles
Matušincová Renata
Translating TED Talks
Motyčka Dominik
Intersubjective positioning in British and Czech political interviews
Onderková Klára
The Big Bang Theory in dubbing and subtitles
Procházka Ondřej
Subversiveness of Nonsense in Selected Children's Fantasy Novels
Siwiec Jan
Grammatical, lexical and functional analysis of verbs in advertisements
Kadlecová Barbora
Genres on the Web: Interpersonal Aspects of Institutional Websites
Kučerová Eva
Dialect in Translation: Black English of Toni Morrison
Rozsypalová Irena
Intertextuality in animated films
Šebestová Barbora
Advertising in Lingua Franca: English Versions of Czech University Web Sites
Toma Michaela
Translators´ Adventures in Wonderland: Creativity in L. Carroll´s work translations
Faiglová Silvie
Intercultural Aspects of Institutional Web Presentation: How does Hyundai present itself to the public?
Rusňáková Veronika
The Art of Promoting - Promoting the Art (A Genre Analysis of Czech Theatres' Websites)
Šmídlová Monika
Persuasive Features in the Genre of Green Tourism Advertisements
Cigánková Tereza
Searching for Something New: Textual Analysis of British University Prospectuses
Hajžmanová Karin
Author´s Style and Translation: Czech Translations of Toni Morrison´s Novels
Holečková Eva
Deformed Language in British and American Prose: the problem of translation
Šarina Jiří
On Specific Features of Fantasy Genre Translation: A Contrastive Analysis of the English Original of the Novel Vampireslayer and Its Czech Translation
Tomášková Ivana
FAQ (frequently asked questions): an attempt at a genre analysis
Golejová Soňa
The Culture- specific Aspects of The Simpsons and Their Rendering in the Czech Version.
Kulichová Lenka
The Persuasive Aspects of University Presentations
Lankočí Helena
Sentence Adverbs in English and in Czech: a contrastive study of an English original and Czech translation
Choronží Sandra
A Life with Buckbeaks, Kreachers and Extendable Ears: On the Translation of Names and Neologisms in Harry Potter Series
Kočurová Veronika
Twain´s Tom Sawyer in Czech translations
Mojžíšková Žaneta
On Coherence and Cohesion in English Medical Articles and Their Czech Translations
Fuchsová Veronika
Language and Style in British and American Quality Press (A Contrastive Study)
Kopecká Petra
Harry Potter: Authenticity in Novel and Film Dialogue
Musialová Hana
Current Trends in ELT Methodology and Teaching Practice
Ramíková Natálie
Passive Voice and Its Presentation in English Language Textbooks for Secondary Schools
Šípek Milan
Critical Discourse Analysis of Political Texts
Barnášová Daniela
Content and Style in British Women's and Men's Magazines
Bizoň Daniel
Computer Game as a Specific Discourse
Blažková Barbora
Advertising Coca-Cola: Development of Language and Style in Advertising Texts of the Coca-Cola Company
Dvorská Monika
Pragmatic Aspects of (Non)Cooperation in Media Discourse
Gibson Kateřina
What Do Teenagers Read during Lessons? A Contrastive Study of British and American Magazines for Teenagers.
Guziurová Tereza
On the stylistically significant features of academic discourse in social sciences: Research article abstract
Obračajová Adéla
A Child´s Play? On the Translation of Books for Children
Potěšilová Petra
Some aspects of the methodology of teaching English to children with dyslexia
Rákociová Radoslava
On the language and style of British and American economic journals
Schwenková Marie
On the linguistic features of advertising in British and Czech magazines and newspapers
Štěpničková Iva
Analysis of Educational Mathematical Discourse
Vaculík Petr
Tabloids and Broadsheets - a Comparative Stylistic Analysis
Valová Alena
A Contrastive Analysis of English and Czech Medical Texts
English Hana
On the Style of Terry Pratchett's Discworld Series
Horák Petr
Douglas Adams - The Hitchhiker's Guide to the Galaxy
Kaštovská Jolana
How to Translate Kurt Vonnegut
Bártová Tereza
Revealing the linguistic principles of advertising
Černotová Eva
Toni Morrison's books in Czech translations
Fiustová Martina
Non-equivalent lexical units and their rendering in Czech translations focusing on mass media and popular scientific texts
Kiková Jana
Problems of the Translation of Guide Books from English and Russian into Czech with Respect to Non-Equivalent Lexical Units
Mecová Lucie
Kerouac's novels and short stories in Czech translations - Analysing the author's style and the possibilities of the translators' methods
Adamská Kateřina
Keywords analysis of the tweets of three chosen politicians during the coronavirus crisis in March 2020
Cedivodová Markéta
Legal Translation in Theory and Practice
Kušová Karin
Communicating science to the public: translating Wynne´s Dog Is Love
Królová Kristýna
Going vegan: blogging to promote vegan food
Tomáš Jakub
Fitness blogs: Ways to Raising Public Awareness
Daskalov Adrián
Odborný text z oblasti přístrojového potápění: Překlad a komentář
Jaška Radek
"Myslím, a proto hraji": překlad biografie Andrey Pirla
Boháčová Kristýna
Translation with Commentary : Popular scientific texts in medicine
Buráňová Silvie
Pohled na recenze: zkoumání struktury a funkce recenzí v časopisech
Eliáš Adam
Czech translation of Lama Ole Nydahe´s Entering the Diamond way
Honegrová Anna
IKEA napříč kulturami a kontinenty: o lokalizaci a adaptaci reklamních strategií na webových stránkách IKEA
Kučerová Adéla
Starbucks Across Cultures and Continents: Starbucks Website Strategies in the Czech Republic and in the USA
Matula Marek
Jazykové prostředky prezentace imigrantů v anglicky psaných médiích
Tomi Jaroslav
Ted talks: translation and comentary
Válek Martin
Exploring a videogame website as a student of linguistics: an analysis of English and Czech website localizations.
Harazinová Beáta
Healthy Teeth and Happy Feet: Analysing the Communication Strategies of Healthcare Promotion Websites
Kocmánková Adéla
Gender Specific Features in Political Spoken Discourse
Postupová Petra
Analysing Amateur Subtitles: The Case of Sleepy Hollow
Protivanský Hynek
Letting people in: Homepage as a gateway into the companies of Apple and Microsoft
Řehová Tereza
Strategies for Translating Book Titles
Baborová Petra
How can you get people interested: Persuasive strategies in institutional web sites
Bělíčková Radka
Ostrava!!! ? On the language and advertising strategies in Ostrava-promoting discourse
Čečotková Lenka
Presenting Czech and Slovak Cities to the World: a genre analysis of city websites
Figurová Silvie
How can you get people interested: Persuasive strategies in websites of world´s galleries and museums.
Krejčí Ondřej
Ostrava!!!? Advertising Ostrava in English and in Czech
Masopustová Pavlína
Tricks and traps of translating travel guides
Richtrová Kristýna
Pragmatic aspects of translation in the subtitles of the series Modern Family
Šestáková Jana
Linguistic characteristics of public notices
Červinková Eliška
Psychology research article: Translation and Commentary
Lukešová Kamila
"Changing Greenland": on translating a popular-scientific
Pešátová Laura
Specificities of translating a grafic novel
Slováček Tomáš
British and Czech Distilleries and Wineries on the Web: Intercultural Aspects of Institutional Web Presentations.
Valenta Radim
''To refresh the world''; Characterizing the genre of company's mission statements
Kolouchová Marta
Specific features of medical text translation: translation with commentary
Kucharczyk Lukáš
On translation of Brian Greene's The Hidden Reality
Říhová Kateřina
Translating economic texts: translation and commentary
Vlachová Darina
Custom Built Advertising for Foreign Language Schools and Freelance Native English Teachers in the Czech Republic
Černíková Lenka
Translating Ole Nydahl
Šmídlová Monika
Green Tourism - The Persuasive Strategies In Advertising Environmentally Friendly Holiday
Angerová Zuzana
Genres across Cultures: presenting schools in Britain and in the Czech Republic
Drozdová Zuzana
Ways to Translating a Popular Scientific Text: a translation of a social geographic article
Králová Michaela
Genres across Cultures: a stylistic analysis of instructive texts and problems of their translation
Veselá Barbora
If Life is a Game, These are the Rules: text analysis and translation
Čumpelík Jiří
Annual Report of Veolia Environnement
Golejová Soňa
About Mackinac Island in Slovak: Translating tourist information materials
Janoušek Karel
Popular Scientific Text in The Economist Magazine (translation and commentary)
Jelénková Monika
England: translating British tourist guides
Jurásek Ivo
Translating Popular Scientific Texts: Translation Methods and Possible Translation Problems in a Translation for National Geographic
Bartoňová Petra
Dialogue and Interaction in Written Texts
Blažková Barbora
Translating Non-literary Texts (Translation and Commentary)
Bruštíková Špidlová Martina
Graffiti, Language and Maculinity
Fejfarová Lenka
Words that sell
Helisová Martina
Ole Nydahl's Texts in Czech Translations
Humpolíková Hana
Women in Leadership in the Ostrava Region
Králová Petra
Polite Requests in International Business Correspondence
Krátká Kamila
Mass Media Text and Its Czech Translation with Commentary
Krátký Tomáš
Popular Scientific Texts in National Geographic magazine (translation and commentary)
Pullerová Jana
Translating for Tourism: Czech Version of English Text with Commentary
Stavinoha Martin
English Non-fiction in Czech Translation (translation and commentary)
Stoklasová Vladimíra
Professional Text and its Czech Translation with Commentary
Hrbáčková Andrea
Intercultural communication
Němcová Zuzana
On the Translation of Popular Scientific Texts
Rákociová Radoslava
On the Style of English Economic Texts
Sklenářová Eva
The significance of the Beskydy mountains for the tourist industry